Don't leave your printer lonely this Valentine's Day weekend! We chose some top designs from Pinshape so you don't have an excuse to not fire up your printer. If you're still looking for a suitable Valentine's Day gift for someone, you can also visit last week's lovey dovey themed staff picks! 
Lucas' Pick
CEO/Co-Founder
Batman or Superman?
Batman VS Superman Helmet by david_ruiz
Wow. David Ruiz has skills! Very cool mini replica helmet. Can't wait to see the movie (coming out March 23, 2016!). Also, David posted an insane timelapse of a ZBrush design of a Hulk model he did on his YouTube Channel— Check it out!

Jibran's Pick
SEO Specialist
The real Da Vinci
Okay this is going to be my first multi-piece print. It's simple to make, and the design on each individual blade is just perfect. If you are looking to create a 3D printed object that has more than one piece and is still simple to produce, I highly encourage you to go with this one. Don't forget to use multi-colored filaments 😉 Oh yeah! (Don't use it just yet by the way. Save it for the summer and show it off at the beach).
Lauren's Pick 
Content Manager 
Shady Character
Happy Chinese New Year! This lampshade is absolutely gorgeous and it reminds me of the beautiful lanterns on display during the Chinese Lantern Festival. A few years ago I was lucky enough to be in China during one of these festivals and whole streets were lined with fancy lanterns that showcased different patterns and designs. This design was inspired by the LUX Light Festival in Helsinki – great work by Salokannel. I would love to have this in my house!
Nick's Pick
COO/Co-Founder
Asgardian 
Life size Thor's hammer (Mjolnir) by ChaosCoreTech
If you love Thor, then you need to print this off right now! This is a great looking replica of Mjolnir that you can use to keep evil in check wherever you are in the universe. The paint job alone on this is fantastic, and there are full print setting and post-processing instructions so you can feel truly heroic with your final creation! Are you worthy? 
Wojtek's Pick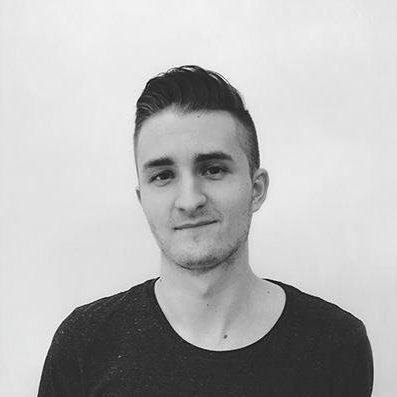 Front-end Developer 
Can't be bothered to get up

Bed Prism Spectacles by Dougwar
This is something you didn't know you needed in your life until you saw it. Bed Prism Spectacles by Dougwar solves one of the annoying things about reading books or watching TV in bed — straining your neck. Just lie down, get comfortable, and enjoy. What a great invention! I don't know why it isn't more popular. If somebody prints it, let me know on twitter!
Kate's Pick
Fan of the undead
This zombie is awesome. There are so many beautiful details, such as his muscles and his emotions. I just can't stop looking at him. I'd like to have a zombie like this on my work desk. It would be a great motivator for me to get working haha!  
Victoria's Pick
UX/UI Designer 
Super Sidekick
Superhero Keychains by FORMBYTE
Gosh golly gosh! These superhero keychains from FORMBYTE are so simple and stylish. 'Nuff said. Print out your favourite superhero symbol and let your inner geek shine! Superman all the way! ? Don't even fight me on this ? On another note, I've got plans to see Deadpool with my geeky friends next week. Anyone else?
Karen's Pick
Community Manager
Sentimental packrat

Fuji Film Instax Mini Picture Frame by deadlygeek
I have Instax photos lying around, and a few clipped up to display on my wall. This is the perfect, easy-to-print design that can let me more prominently display my photos, and swap them out from time to time. I know quite a few friends who would benefit from having one of these and I can't wait to have some spare printer time to churn some out!
Andre's Pick
CTO/Co-Founder
Neat and tidy
Andy Pencil Holder by deadlygeek
This is a minimalistic and neat looking pencil holder designed by deadlygeek! A perfect present for a kid who's always losing his pencils.
---
The Pinshape community is talking about us! Send your testimonials to [email protected].