Hello Pinshapers,
We're excited to announce that we'll be doing weekly Pinshape staff picks on Fridays! We want to draw attention to the designer community, as well as give makers some suggestions on what they can do for their weekend prints. Each pick is solely at the discretion of the individual staff, and they get to explain why they like their chosen their 3d printing design. Without further ado, here's this week's staff design picks! 
 Lucas' Pick
 CEO/Co-Founder
Desktop Headphone Stand by Chris Milnes
I love music, and I'm a bit of an audiophile. As a result, I really love my headphones, and I use them everywhere. Since I listen to music at work, my headphones are always laying all over my desk when I'm not using them, but this stand is great to keep things organized and out of the way when I don't need them. As a bonus, this stand just looks plain cool. Awesome.
 Nick's Pick
 COO/Co-Founder
This froggy shows off what can be done with FDM 3D printers. Louise has a history of creating awesome designs and this takes it to the next level. The frog is fully articulated with ball joints and even the eyes can move! Louise continues to be at the forefront of quality design, and this model is a perfect example for aspiring toy makers to check out.
 Andre's Pick
 CTO/Co-Founder
Magnetic Skateboard/Longboard Holder (Imperial) by Genghis
This is the perfect storage solution for my skateboards. Hanging my boards with the 3D magnet holder brightens my apartment and helps me save floor space. I highly recommend this simple and easy instructable to any skater!
 Victoria's Pick
 UI/UX Designer
Printable Interlock Puzzle #2 by Richard Gain
I love puzzles! Richard Gain has a bunch of them 3D ready on his profile. Some of them are designed by him and some of them are by other puzzle masters and I like that he accredits the original designers. These are nerdy and fun. Once you solve 'em, it's a cool party trick to have around.
 Karen's Pick
 Marketing and Social Media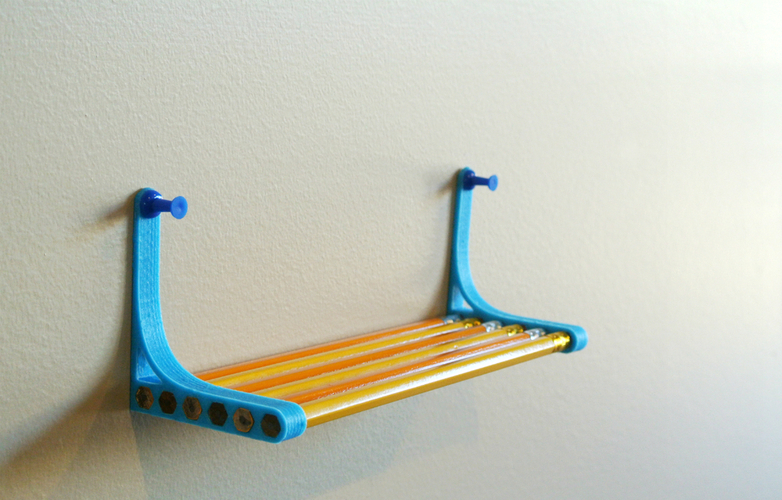 My pick for this week will have to be the pencil shelf from WallTosh. Firstly, it's another push pin design that he's famous for (he uses push pins in the most creative ways!). Secondly, you can make a shelf for your office out of office supplies! Expect to see a picture of one of these above my desk in the near future…
 Keenan's Pick
 Business Development Manager
Spiral Chess Set by BigBadBison
The Spiral Chess Set by BigBadBison is top notch. I like that BigBadBison has been working on this project since he got his first printer, but I really like that it's a design that, as BigBadBison said, "could not be manufactured by any other process other than 3D Printing." Decorative prints are great, but functional ones always have an edge to me. I'm looking forward to printing this set after we give the Ultimaker 2 a break from printing this double spiral vase it's doing.
 Wojtek's Pick
 Front-end Developer
HeatSink Icecube Maker by Marc Lindemann
It's summertime again! The weather outside is getting really warm, and so is your favorite beverage in your hand. You can never have enough ice cubes ready in the freezer if you end up really thirsty. Heat sink + ice cube? Great pun for computer geeks. Took me a while to catch that, but it sure left a big grin on my face.
I can definitely recommend this design. It's practical and looks awesome! The toughest part would be choosing the right material to print this. If anyone has a solid idea, send me a tweet @dubstrike!
---
That's it for this week! Which Pinshape design would you have chosen? Check back next week for another set of picks from your Pinshape staff, or subscribe to our mailing list to get this delivered to your inbox every Friday!